The Engineering Design and Practice Sequence (EDPS) is a four-year sequence of courses for students in all engineering programs. It provides an opportunity to develop skills in design, creativity, economics, communications, and professionalism in engineering contexts.
The first two years of the EDPS are delivered by faculty-wide project-based courses APSC-101, -102, 103 (EDPS I) and APSC-200/293 (EDPS II).
The third and fourth years of the sequence (EDPS III and IV) are delivered by departments, and tailored to the disciplinary design and practice approaches.
EDPS IV is a culminating capstone design project supervised by an engineering faculty member.
APSC103 at Queen's Engineering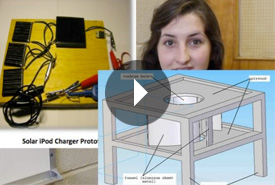 ---
We are looking for campus and community organizations with project ideas! You provide the problem, and our first year engineering students work on a solution! More about EDPS I…